Tensile strength test of PE foils modified with zinc oxide and zinc salts
Description
This dataset contains the results of PE foils mechanical tests, in which the material was evaluated for strength and extensibility at the moment of breaking and based on the same tests preceded by material fatigue in 50 stretching cycles. The principle of the method is to stretch the test sample placed in the clamps of the stretching apparatus at a constant speed until it breaks and read the magnitude of the tensile force and elongation of the sample at break.
Mechanical tests were carried out based on the following standards:
PN-C-89258-1: 1997 - Polish version: "Tworzywa sztuczne. Folie opakowaniowe - metody badań"
PN-EN ISO 527-1: 2012 - "Plastics. Determination of mechanical properties under static stretching. "
PN-EN ISO 527-3: 1998 - Polish version: "Tworzywa sztuczne - Oznaczanie właściwości mechanicznych przy rozciąganiu statycznym.
The mechanical properties of the foils were characterized using a universal testing machine (Instron model 5543, controlled using the "Merlin" software V 4.42.- see fig.1)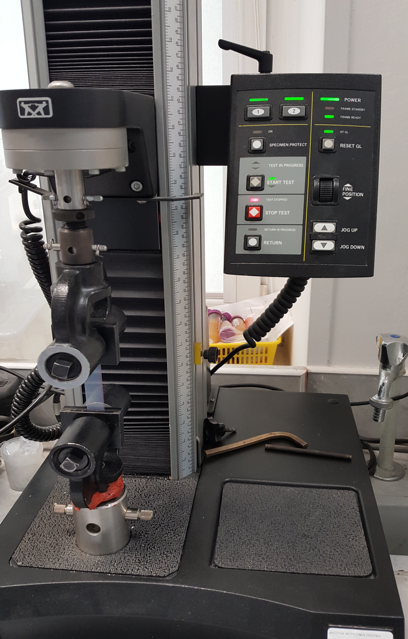 Dataset file
testy_folie.zip
220.5kB, MD5 b5e485c7342f8136b5036d8aac9ccc9b, downloads: 17
Details
Year of publication:

2020

Creation date:

2019

Dataset language:

English

Fields of science:

Chemical sciences (Natural sciences)

License:

CC BY-NC-SA

Non-commercial - Share-alike

Raw data:

Data contained in dataset was not processed.

DOI:

Software:

arkusze kalkulacyjne obsługujące pliki *.raw, np. EXEL

Verified by:

Gdańsk University of Technology
Keywords
seen 138 times