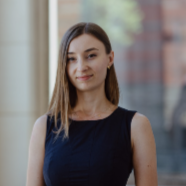 dr inż. Patrycja Makoś-Chełstowska
Over the past decade, deep eutectic solvents (DES) have been widely studied and applied in sample preparation techniques. Until recently, most of the synthesized DES were hydrophilic, which prevented their use in the extraction of aqueous samples. However, after 2015 studies on the synthesis and application of hydrophobic deep eutectic solvents (HDES) has rapidly expanded. Due to unique properties of HDES i.e. density, viscosity,...

The paper presents novel nonionic and hydrophobic deep eutectic solvents which were synthesized from natural compounds, i.e., thymol, ±camphor, decanoic and 10-undecylenic acids. Fundamental physicochemical properties of the synthesized deep eutectic solvents were determined, followed by their application as extractants in ultrasound-assisted dispersive liquid-liquid microextraction to isolate and enrich polycyclic aromatic hydrocarbons...

Sulfate radicals based Advanced Oxidation Processes (S-AOPs), namely Persulfate and peroxymonosulfate, were used for the treatment of post oxidative effluents from a production of petroleum bitumens under alkaline pH. Studies on the identification and monitoring of the volatile organic compounds (VOCs) along with COD, BOD and sulfide ions reduction were performed. Persulfate with a ratio between the oxygen from the oxidant and...
Obtained scientific degrees/titles
Obtained science degree

dr inż. Chemical technology

(Technology)
seen 6221 times