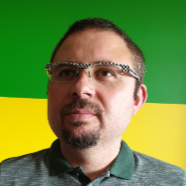 dr inż. Patryk Jasik
Adiunkt
Workplace

Gmach B pokój 415

Phone

(58) 347 29 49
Informujemy o adiabatycznych krzywych energii potencjalnej cząsteczki litu. Nasze krzywe są stabelowane według odległości międzyatomowej od 3,2 a0 do 88a0. Porównujemy nasze wyniki teoretyczne z wynikami obliczonymi przez innych autorów oraz krzywymi energii potencjalnej wyprowadzonymi z eksperymentów. W naszym podejściu używamy metody konfiguracji wzajemnego oddziaływania, gdzie tylko elektrony walencyjne atomu Li są traktowane...

Semi-empirical adiabatic potential energy curves of highly excited states of the KRb molecule are calculated as a function of the internuclear distance R over a wide range from 3 to 150 a0. The diatomic molecule is treated as an effective two-electron system by using the large core pseudopotentials and core polarization potentials. All calculations are performed by using the nonrelativistic CASSCF/MRCI method with accurate basis...

Adiabatic potential energy curves and spectroscopic constants have been calculated for the NaRb molecule. The results of ten states of the symmetry Σ+, six states of the symmetry Π, and two states of the symmetry Δ are obtained by the nonrelativistic quantum chemical method used with pseudopotentials describing the interaction of valence electrons with atomic cores. Analysis is based on a comparison with the results of other theoretical...
Obtained scientific degrees/titles
Obtained science degree

dr inż. Atomic and Molecular Physics

(Physical sciences)
seen 631 times