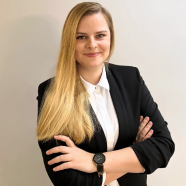 This paper concerns the comparison of the efficiency of two-stage hydrolysis processes, i.e., alkaline pre-treatment and acid hydrolysis, as well as alkaline pre-treatment followed by enzymatic hydrolysis, carried out in order to obtain reducing sugars from triticale straw. For each of the analyzed systems, the optimization of the processing conditions was carried out with respect to the glucose yield. For the alkaline pre-treatment,...

Lubricating oil, used in cutting equipment, works in the so-called open lubrication system and is entirely emitted to the environment. When such an oil contains even a small portion of the crude oil-derived fraction, which is still very common, the oil is a serious environmental pollution. In addition, the oil mist poses a serious threat to the health of employees. Current legal regulations require users of saws and harvesters...

Do najbardziej nowoczesnych i przyszłościowych metod chemicznych obróbki wstępnej masy lignocelulozowej zalicza się wykorzystanie ozonu. Ozon w znacznym stopniu degraduje ligninę, ale nie narusza struktury celulozy i hemicelulozy, która w rezultacie pozostaje dostępna do bezpośredniego kontaktu z enzymami i mikroorganizmami. Ozonoliza to możliwość prowadzenia procesu w warunkach temperatury i ciśnienia otoczenia. Nie ma miejsca...
seen 327 times