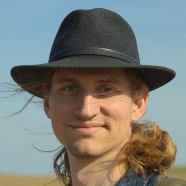 mgr inż. Paweł Michał Bielski
Assistant
Workplace

Budynek Wydziału Oceanotechniki i Okrętownictwa pokój 318

Phone

(58) 347 27 39
This study aims to model and analyse imperfect tructures using real measurements, employing photogrammetry technique commonly used in the geodesy. The study highlights the capability of the photogrammetry in aiding the structural analysis of imperfect engineering objects. Firstly, the photogrammetry measurements of a stiffened plate are carried out using a specially designed for the purpose experimental stand. Then, the plate surface...

Musical instruments are very various in terms of sound quality with their timbre shaped by materials and geometry. Materials' impact is commonly treated as dominant one by musicians, while it is unclear whether it is true or not. The research proposed in the study focuses on determining influence of both these factors on sound quality based on their impact on harmonic composition. Numerical approach has been chosen to allowed independent...

In machine industry, stresses are often calculated using simple linear FEM analysis. Occasional failures of elements designed in such a way require recomputation by means of more sophisticated methods, eg. including plasticity and non-linear effects. It usually leads to investigation of failure causes and improvement of an element in order to prevent its unwanted behavior in the future. The study presents the case where both linear...
seen 1000 times