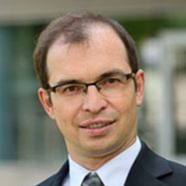 dr hab. inż. Paweł Czarnul
Vice-Dean for Cooperation and Development
Workplace

Budynek B WETI pokój 151

Phone

(58) 348 62 84
In this paper we present a new environment called MERPSYS that allows simulation of parallel application execution time on cluster-based systems. The environment offers a modeling application using the Java language extended with methods representing message passing type communication routines. It also offers a graphical interface for building a system model that incorporates various hardware components such as CPUs, GPUs, interconnects...

This paper presents design, implementation and performance results of a new modular, parallel, agent-based and large scale crowd simulation environment. A parallel application, implemented with C and MPI, was implemented and run in this parallel environment for simulation and visualization of an evacuation scenario at Gdansk University of Technology, Poland and further in the area of districts of Gdansk. The application uses a...

The paper proposes a model, design, and implementation of an efficient multithreaded engine for execution of distributed service-based workflows with data streaming defined on a per task basis. The implementation takes into account capacity constraints of the servers on which services are installed and the workflow data footprint if needed. Furthermore, it also considers storage space of the workflow execution engine and its cost....
seen 1475 times