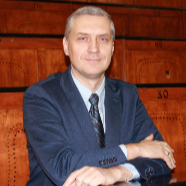 dr inż. Paweł Filipkowski
Senior Lecturer
Workplace

Budynek B Wydziału Chemicznego pokój 301

Phone

(58) 347 24 56
We report the identification and characterization of the single-stranded DNA-binding protein (SSB) from the mesophile and highly radiation-resistant Deinococcus radiopugnans (DrpSSB). PCR-derived DNA fragment containing the complete structural gene for DrpSSB protein was cloned and expressed in Escherichia coli. The gene consisting of an open reading frame of 900 nucleotides encodes a protein of 300 amino acids with a calculated...

Jedna z wiodących gałęzi współczesnej biotechnologii opiera się na produkcji białek – przede wszystkim enzymów. Są one powszechnie wykorzystywane: od przemysłu chemicznego poprzez przemysł spożywczy aż po medycynę i życie codzienne (czy ktoś wyobraża sobie w dzisiejszych czasach proszek do prania "bez enzymu"). Przed rozwojem nowoczesnych metod biologii molekularnej i inżynierii genetycznej pozyskiwano interesujące substancje z...

Lysostaphin is an enzyme with bactericidal activity against Staphylococcus aureus and other staphylococcal species. In spite of many advantages and promising results of preliminary research, the enzyme is still not widely used in medicine, veterinary or as a food preservative. One of the most important factors limiting application of the enzyme in clinical or technological practice is the high costs of its production. In the present...
Obtained scientific degrees/titles
Obtained science degree

dr Biotechnology

(Biological sciences)

Uniwersytet Przyrodniczy we Wrocławiu, Wydział Nauk o Żywności
seen 342 times