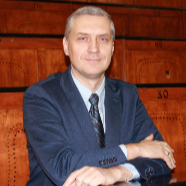 dr inż. Paweł Filipkowski
Profesor uczelni ze stop. nauk. dr
Workplace

Budynek B Wydz. Chemii
room 301

open in new tab

Phone

(58) 347 24 56

E-mail
Two recombinant trehalose synthases from Deinococcus geothermalis (DSMZ 11300) were compared. A significant influence of the artificial polyhistidine tag was observed in protein constitution. The recombinant trehalose synthase from D. geothermalis with His6 -tag has a higher K m value of 254 mM, in comparison with the wild-type trehalose synthase (K m 170 mM), and displayed a lower activity of maltose conversion when compared...

W celu zbadania właściwości biochemicznych białka wiążącego się do jednoniciowego DNA (SSB) pochodzącego z Deinococcus geothermalis (DgeSSB), sklonowano gen ssb otrzymany w reakcji PCR, a następnie uzyskano wydajną biosyntezę białka DgeSSB. Gen składa się z 900 par zasad, kodujących białko złożone z 300 reszt aminokwasowych, o wyliczonej masie molekularnej równej 32.45 kDa. Sekwencja aminokwasowa wykazuje 43, 44% i 75% identyczności...

We report the identification and characterization of the single-stranded DNA-binding protein (SSB) from the mesophile and highly radiation-resistant Deinococcus radiopugnans (DrpSSB). PCR-derived DNA fragment containing the complete structural gene for DrpSSB protein was cloned and expressed in Escherichia coli. The gene consisting of an open reading frame of 900 nucleotides encodes a protein of 300 amino acids with a calculated...
Obtained scientific degrees/titles
Obtained science degree

dr Biotechnology

(Biological sciences)

Uniwersytet Przyrodniczy we Wrocławiu, Wydział Nauk o Żywności
seen 2475 times