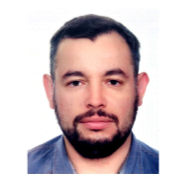 dr inż. Paweł Jakóbczyk
The study is devoted to the electrochemical detection of trace explosives on boron-doped diamond/graphene nanowall electrodes (B:DGNW). The electrodes were fabricated in a one-step growth process using chemical vapour deposition without any additional modifications. The electrochemical investigations were focused on the determination of the important nitroaromatic explosive compounds, 2,4,6-trinitrotoluene (TNT) and 2,4,6-trinitroanisole...

Nanomaterials and assemblies of the aforementioned into complex architectures constitute an opportunity to design efficient and selective solutions to wide spread and emerging environmental issues. The limited disposal of organic matter in modern landfills generates extremely concentrated leachates characterised by high concentrations of refractory compounds. Conventional biochemical treatment methods are unsuitable, while advanced...

In this paper, various passivation schemes were applied at few-layer black phosphorus (FLBP) to achieve covalent functionalisation with 4-azidobenzoic acid, improving its electrochemical response intended for analytical and biosensing applications. The thermal and microwave assisted modification procedures in toluene and dime-thylformamide resulted in high reversibility of reactions on functionalised FLBP using a ferricyanide/ferrocya-nide...
seen 229 times