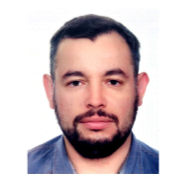 dr inż. Paweł Jakóbczyk
The study is devoted to the electrochemical detection of trace explosives on boron-doped diamond/graphene nanowall electrodes (B:DGNW). The electrodes were fabricated in a one-step growth process using chemical vapour deposition without any additional modifications. The electrochemical investigations were focused on the determination of the important nitroaromatic explosive compounds, 2,4,6-trinitrotoluene (TNT) and 2,4,6-trinitroanisole...

Nanomaterials and assemblies of the aforementioned into complex architectures constitute an opportunity to design efficient and selective solutions to wide spread and emerging environmental issues. The limited disposal of organic matter in modern landfills generates extremely concentrated leachates characterised by high concentrations of refractory compounds. Conventional biochemical treatment methods are unsuitable, while advanced...

We present a promising approach to the electroanalytical detection of a specific nitroaromatic explosive in landfill leachates (LLs) that originated from a municipal solid waste plant. The paper is focused but not limited to the sensing of 4,4',5,5'-tetranitro-1H,1'H-2,2'-biimidazole (TNBI) using differential pulse voltammetry and cyclic voltammetry. Highly electroactive nanocarbon was applied to determine low concentrations of...
seen 103 times