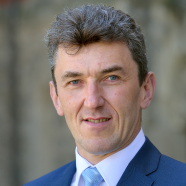 dr hab. inż. Paweł Śliwiński
Associate Professor
Workplace

Budynek Wydziału Mechanicznego pokój 407

Phone

(58) 347 22 67
Vice-Dean for Innovation and Didactic Organization
Workplace

Budynek M-T
pokój 407

open in new tab

Phone

(58) 347 22 67, (58) 347 20 32, (58) 347 27 98, kom.: 510893829

E-mail
In this paper volumetric losses in hydraulic motor supplied with water and mineral oil (two liquids having significantly different viscosity and lubricating properties) are described and comparison. The experimental tests were conducted using an innovative hydraulic satellite motor, that is dedicated to work with different liquid, including water. The sources of leaks in this motor are characterized and described also. On this...

he article presents an analytical method to design the commutation unit in a hydraulic satellite motor. It is shown that the size of the holes feeding the working chambers and their location on the plates closing those chambers depends on the geometrical dimensions of the working mechanism. The overlap in the commutation unit depends on the rotational speed range. It is demonstrated that the geometrical dimensions of the commutation...

The article describes the flow rates of mineral oil and water flowing, as working media, through the commutation unit of a hydraulic satellite motor. It is demonstrated that geometrical dimensions of commutation unit clearances change as a function of the machine shaft rotation angle. Methods for measuring the rate of this flow and the pressure in the working chamber are presented. The results of pressure measurements in the working...
Obtained scientific degrees/titles
Obtained science degree

dr hab. inż. Mechanical engineering

(Technology)

Obtained science degree

dr inż. Mechanics

(Technology)
seen 752 times