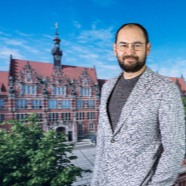 The rapid development of scanning technology, especially mobile scanning, gives the possibility to collect spatial data coming from maritime measurement platforms and autonomous manned or unmanned vehicles. Presented solution is derived from the mobile scanning. However we should keep in mind that the specificity of laser scanning at sea and processing collected data should be in the form acceptable in Geographical Information...

Nowadays, maritime infrastructure is heavily exploited, which requires monitoring. The article presents the implementation of spatial information which are point clouds for monitoring and analysis of the area around the port (buildings and wharves). For this study, point clouds coming from terrestrial (TLS) and airborne laser scanning (ALS), each of them having different accuracy, were used. An important part of the analysis was...

The paper addresses the fields of combined close-range photogrammetry and terrestrial laser scanning in the light of ship modelling. The authors pointed out precision and measurement accuracy due to their possible complex application for ship hulls inventories. Due to prescribed vitality of every ship structure, it is crucial to prepare documentation to support the vessel processes. The presented methods are directed, combined...
Obtained scientific degrees/titles
Obtained science degree

dr inż. Civil engineering and transport

(Engineering and Technology)

Wydział Geodezji Górniczej i Inżynierii Środowiska, Akademia Górniczo - Hutnicza im. Stanisława Staszica w Krakowie
seen 1312 times