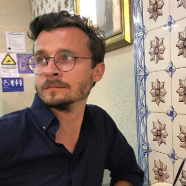 The purpose of this article is to present a philosophical education strategy for architecture and interior architecture faculties. The approach is the result of trial and error in lectures and debates with students of philosophical courses in these fields. The presented article is not a result of empirical research, but rather a report on the problems encountered and proposals for their solution. The experience gained from conducting...

Niniejsze opracowanie to raport z dokonanej analizy zrealizowanych systemów komunikacji wizualnej miast i zbadanie możliwości kształtowania, rozwoju i uspójnienia identyfikacji wizualnej marki miasta Gdańsk. Wyniki analizy mogą służyć Miastu Gdańsk jako materiał referencyjny przy ocenie obecnych opracowań własnych i prowadzeniu bieżącej komunikacji swojego wizerunku ale przede wszystkim służą jako materiał bazowy do profesjonalnej...

The article discusses the involvement of architecture students in actual urban regeneration projects through participatory design and tray to respond question how it can improve students social competences, and benefit their future careers as architects and urban planners. By using the example of the student workshops conducted in 2019 at the Faculty of Architecture, GUT, the article discusses the specific methods applied in the...
seen 501 times