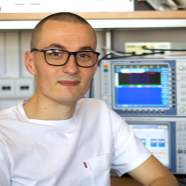 In the article an off-body narrowband and ultra-wide band channel model for body area networks in a ferryboat environment is described. Considering the limited number of publications there is a need to develop an off-body channel model, which will facilitate the design of radio links, both from the multimedia services provider and the security point of view, for body area networks in this atypical environment. A mobile heterogeneous...

In the article, a novel bitrate adaptation method for data streams allocation in heterogeneous Wireless Body Area Networks (WBANs) is presented. The efficiency of the proposed algorithm was compared with other known algorithms of data stream allocation using computer simulation. A dedicated simulator has been developed using results of measurements in the real environment. The usage of the proposed adaptive data streams allocation...

W artykule przedstawiono stanowisko badawcze służące do rozwijania i testowania algorytmów nawigacji radiowej w opracowywanym hybrydowym systemie lokalizacyjnym. Przedstawiono sposób konfiguracji ultraszeroko-pasmowego modułu radiowego oraz uzyskiwane wyniki radiowych pomiarów odległości. Dodatkowo zamieszczono przykład radiolokalizacji z użyciem opracowanego stanowiska.
seen 377 times