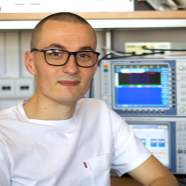 In the article an off-body narrowband and ultra-wide band channel model for body area networks in a ferryboat environment is described. Considering the limited number of publications there is a need to develop an off-body channel model, which will facilitate the design of radio links, both from the multimedia services provider and the security point of view, for body area networks in this atypical environment. A mobile heterogeneous...

W artykule przedstawiono stanowisko badawcze służące do rozwijania i testowania algorytmów nawigacji radiowej w opracowywanym hybrydowym systemie lokalizacyjnym. Przedstawiono sposób konfiguracji ultraszeroko-pasmowego modułu radiowego oraz uzyskiwane wyniki radiowych pomiarów odległości. Dodatkowo zamieszczono przykład radiolokalizacji z użyciem opracowanego stanowiska.

W artykule przedstawiono założenia, projekt oraz wykonanie demonstratora technologicznego mobilnego urządzenia do wytwarzania kurtyny elektromagnetycznej. Urządzenie jest zaprojektowane do zablokowania łączności radiowej, za pomocą której możliwe byłoby zdetonowanie prowizorycznych ładunków wybuchowych. Celem jest zapewnienie bezpieczeństwa funkcjonariuszom służb państwowych takich jak Straż Graniczna, czy też Policja. W artykule...
seen 311 times