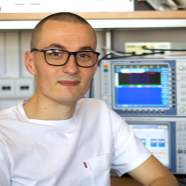 Deputy Head of Department, Assistant Professor
Workplace

Budynek A Elektroniki
room EA 404

open in new tab

Phone

+48 58 347 14 27

E-mail
In this article, the usage of deep learning (DL) in ultra-wideband (UWB) Wireless Body Area Networks (WBANs) is presented. The developed approach, using channel impulse response, allows higher efficiency in identifying the direct visibility conditions between nodes in off-body communication with comparison to the methods described in the literature. The effectiveness of the proposed deep feedforward neural network was checked on...

In the article an off-body narrowband and ultra-wide band channel model for body area networks in a ferryboat environment is described. Considering the limited number of publications there is a need to develop an off-body channel model, which will facilitate the design of radio links, both from the multimedia services provider and the security point of view, for body area networks in this atypical environment. A mobile heterogeneous...

In the article, a novel bitrate adaptation method for data streams allocation in heterogeneous Wireless Body Area Networks (WBANs) is presented. The efficiency of the proposed algorithm was compared with other known algorithms of data stream allocation using computer simulation. A dedicated simulator has been developed using results of measurements in the real environment. The usage of the proposed adaptive data streams allocation...
seen 2110 times