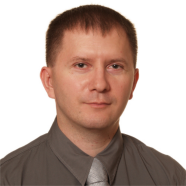 Artykuł przedstawia nową, szybko zbieżną, technikę syntezy macierzy sprzężeń filtrów o charaktrystyce Czebyszewa. Synteza opiera się na zastosowaniu metody najmniejszych kwadratów w odniesieniu do wartości własnych macierzy sprzężeń oraz jej podmacierzy.

This paper presents techniques for generating very large finite-element matrices on a multicore workstation equipped with several graphics processing units (GPUs). To overcome the low memory size limitation of the GPUs, and at the same time to accelerate the generation process, we propose to generate the large sparse linear systems arising in finite-element analysis in an iterative manner on several GPUs and to use the graphics...

This paper considers a method for accelerating finite-element simulations of electromagnetic problems on a workstation using graphics processing units (GPUs). The focus is on finite-element formulations using higher order elements and tetrahedral meshes that lead to sparse matrices too large to be dealt with on a typical workstation using direct methods. We discuss the problem of rapid matrix generation and assembly, as well as...
Obtained scientific degrees/titles
Obtained science degree

dr inż. Electronics

(Technology)
seen 405 times