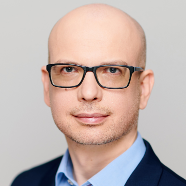 dr hab. inż. Piotr Szczuko
Associate professor
Workplace

Gmach Elektroniki Telekomunikacji i Informatyki pokój 729

Phone

(58) 347 29 72
A rough set-based approach to classification of EEG signals registered while subjects were performing real and imagery motions is presented in the paper. The appropriate subset of EEG channels is selected, the recordings are segmented, and features are extracted, based on time-frequency decomposition of the signal. Rough set classifier is trained in several scenarios, comparing accuracy of classification for real and imagery motion....

The work presented in the paper is dedicated to determining and evaluating the most efficient neural network architecture applied as a multiple regression network localizing human body joints in 3D space based on a single low resolution depth image. The main challenge was to deal with a noisy and coarse representation of the human body, as observed by a depth sensor from a large distance, and to achieve high localization precision....

Background A lack of communication with people suffering from acquired brain injuries may lead to drawing erroneous conclusions regarding the diagnosis or therapy of patients. Information technology and neuroscience make it possible to enhance the diagnostic and rehabilitation process of patients with traumatic brain injury or post-hypoxia. In this paper, we present a new method for evaluation possibility of communication and the...
Obtained scientific degrees/titles
Obtained science degree

dr hab. inż. Information and communication technology

(Engineering and Technology)
seen 4513 times