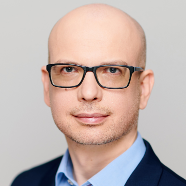 Adiunkt
Workplace

Gmach Elektroniki Telekomunikacji i Informatyki pokój 729

Phone

(58) 347 29 72
The paper is dedicated to proposing and evaluating a number of convolutional neural network architectures for calculating a multiple regression on 3D coordinates of human body joints tracked in a single low resolution depth image. The main challenge was to obtain a high precision in case of a noisy and coarse scan of the body, as observed by a depth sensor from a large distance. The regression network was expected to reason about...

The classification of EEG signals provides an important element of brain-computer interface (BCI) applications, underlying an efficient interaction between a human and a computer application. The BCI applications can be especially useful for people with disabilities. Numerous experiments aim at recognition of motion intent of left or right hand being useful for locked-in-state or paralyzed subjects in controlling computer applications....

Rough set-based approach to the classification of EEG signals of real and imaginary motion is presented. The pre-processing and signal parametrization procedures are described, the rough set theory is briefly introduced, and several classification scenarios and parameters selection methods are proposed. Classification results are provided and discussed with their potential utilization for multimedia applications controlled by the...
Obtained scientific degrees/titles
Obtained science degree

dr inż. Information science

(Technology)
seen 651 times