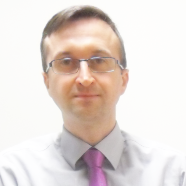 dr Piotr Weber
Adiunkt
Workplace

Gmach Główny pokó 33 A

Phone

(58) 347 12 95
Lubrication of articular cartilage is a complex multiscale phenomenon in synovial joint organ systems. In these systems, synovial fluid properties result from synergistic interactions between a variety of molecular constituent. Two molecular classes in particular are of importance in understanding lubrication mechanisms: hyaluronic acid and phospholipids. The purpose of this study is to evaluate interactions between hyaluronic acid...

Hyaluronic acid and phospholipids are two components in the synovial joint cavity that contribute to joint lubrication synergistically. Molecular dynamics simulations were performed and hydrogen bonds in hyaluronic acid were analyzed to identify specific sites that are responsible for its physical cross-linking. Two molecular masses of hyaluronic acid, 10 kDa and 160 kDa, were considered. We use molecular dynamics simulations and...

Very recent preliminary findings concerning the alerting capacities of light stimulus with long-wavelengths suggest the existence of neural pathways other than melatonin suppression that trigger the nonvisual response. Though the nonvisual effects of light during the daytime have not been investigated thoroughly, they are definitely worth investigating. The purpose of the present study is to enrich existing evidence by describing...
seen 619 times