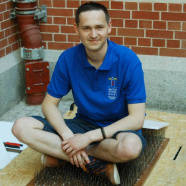 dr inż. Piotr Winiarz
Tetragonal polymorph of lanthanum orthoniobate can be stabilized to room temperature by the substitution of Nb with an isovalent element. LaNb1-xAsxO4 (0 < x ≤ 0.3), where As is an element stabilizing tetragonal structure, were successfully synthesized with combined co-precipitation and solid-state reaction method. The phase transition temperature, above which the material has tetragonal structure, decreases linearly with increasing...

In this work, Fe-doped strontium titanate SrTi1−xFexO3−x/2−δ, for x = 0–1 (STFx), has been fabricated and studied. The structure and microstructure analysis showed that the Fe amount in SrTi1−xFexO3−x/2−δ has a great influence on the lattice parameter and microstructure, including the porosity and grain size. Oxygen nonstoichiometry studies performed by thermogravimetry at different atmospheres showed that the Fe-rich compositions...

In this work, the influence of the substitution of niobium by titanium in Y3Nb1-xTixO7-δ on the structural and electrical properties is reported. Several experimental techniques, i.e. X-Ray Diffraction (XRD), Scanning Electron Microscopy (SEM), X-Ray Photoelectron Spectroscopy (XPS) and Electrochemical Impedance Spectroscopy (EIS), were applied to investigate the system Y3Nb1-xTixO7-δ. Titanium in Y3Nb1-xTixO7-δ is an acceptor-type...
seen 292 times