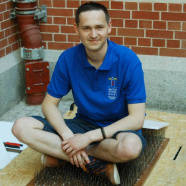 dr inż. Piotr Winiarz
Tetragonal polymorph of lanthanum orthoniobate can be stabilized to room temperature by the substitution of Nb with an isovalent element. LaNb1-xAsxO4 (0 < x ≤ 0.3), where As is an element stabilizing tetragonal structure, were successfully synthesized with combined co-precipitation and solid-state reaction method. The phase transition temperature, above which the material has tetragonal structure, decreases linearly with increasing...

In this work, the influence of the substitution of niobium by titanium in Y3Nb1-xTixO7-δ on the structural and electrical properties is reported. Several experimental techniques, i.e. X-Ray Diffraction (XRD), Scanning Electron Microscopy (SEM), X-Ray Photoelectron Spectroscopy (XPS) and Electrochemical Impedance Spectroscopy (EIS), were applied to investigate the system Y3Nb1-xTixO7-δ. Titanium in Y3Nb1-xTixO7-δ is an acceptor-type...

The single phase lanthanum orthoniobate with tetragonal structure has been synthesized by the means of mechanosynthesis method. The studies have shown the crystal structure of La0.98Ca0.02NbO4 depends on the synthesis stage. The samples were predominantly in the tetragonal phase with a trace amount of the monoclinic phase. The SEM studies of morphology and microstructure have shown nanocrystallinity of the materials. The Raman...
seen 249 times