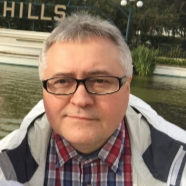 Head of Department
Workplace

Budynek WILiŚ pokój 105

Phone

(58) 347 19 02
Knowledge related to land-use management impacts on the Baltic Sea ecosystem is limited. The constant release of pollutants into water bodies has resulted in water quality degradation. Therefore, only the innovative approaches integrated with research will provide accurate solutions and methods for proper environment management and will enable understanding and prediction of the impacts of land-use in the Baltic Sea region. Modelling...

W pracy przedstawiono wpływ dyspersji na prognozowanie stężeń azotu amonowego w komorach osadu czynnego w oczyszczalni ścieków Gdańsk-Wschód. W tym celu wykorzystano jednowymiarowe równanie adwekcji-dyspersji z członem źródłowym (szybkością nitryfikacji). Współczynnik dyspersji został wyznaczony na podstawie pomiarów znacznika fluoroscencyjnego. Model został zweryfikowany w oparciu o pomiary stężeń azotu w 6 sekcjach komory tlenowej...

The article presents the results of two-dimensional modeling of flows caused by the sea conditions and wind stresses on the example of Dead Vistula. Based on the available bathymetric data, a numerical model of the river section was created, which was supplemented with data on the position of the water table depending on hydrometeorological conditions. To describe the flow field in steady conditions, a simplified model of two-dimensional...
Obtained scientific degrees/titles
Obtained science degree

dr inż. Environmental engineering

(Technology)
seen 567 times