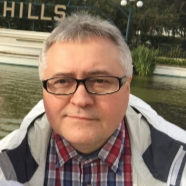 W pracy przedstawiono wpływ dyspersji na prognozowanie stężeń azotu amonowego w komorach osadu czynnego w oczyszczalni ścieków Gdańsk-Wschód. W tym celu wykorzystano jednowymiarowe równanie adwekcji-dyspersji z członem źródłowym (szybkością nitryfikacji). Współczynnik dyspersji został wyznaczony na podstawie pomiarów znacznika fluoroscencyjnego. Model został zweryfikowany w oparciu o pomiary stężeń azotu w 6 sekcjach komory tlenowej...

The article presents the results of two-dimensional modeling of flows caused by the sea conditions and wind stresses on the example of Dead Vistula. Based on the available bathymetric data, a numerical model of the river section was created, which was supplemented with data on the position of the water table depending on hydrometeorological conditions. To describe the flow field in steady conditions, a simplified model of two-dimensional...

The aim of this study was to use computational fluid dynamics for predicting the behavior of reactive pollutants (ammonia and phosphate) in the aerobic zone of the bioreactor located at the Wschod wastewater treatment plant in Gdansk, Poland. The one-dimensional advection-dispersion equation was combined with simple biokinetic models incorporating the Monod-type expressions as source terms for the two pollutants. The problem was...
Obtained scientific degrees/titles
Obtained science degree

dr inż. Environmental engineering

(Technology)
seen 224 times