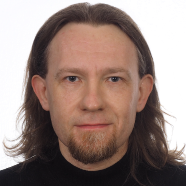 dr inż. Rafał Łangowski
A control problem of an inverted pendulum in the presence of parametric uncertainty has been investigated in this paper. In particular, synthesis and implementation of an automatic self-tuning regulator for a real inverted pendulum have been given. The main cores of the control system are a swing-up control method and a stabilisation regulator. The first one is based on the energy of an inverted pendulum, whereas the second one...

The problem of mathematical modelling and indication of properties of a DIP has been investigated in this paper. The aim of this work is to aggregate the knowledge on a DIP modelling using the Euler-Lagrange formalism in the presence of external forces and friction. To indicate the main properties important for simulation, model parameters identification and control system synthesis, analytical and numerical tools have been used....

The problem of an optimised placement of the hard quality sensors in drinking water distribution systemsunder several water demand scenarios for a robust monitoring of the chlorine concentration is formulatedin this paper. The optimality is understood as achieving a desired trade off between the sensors and theirmaintenance costs and the accuracy of estimation of the chlorine concentration. The contribution of thiswork is a comprehensive...
Obtained scientific degrees/titles
Obtained science degree

dr inż. Automatic control and robotics

(Technology)
seen 942 times