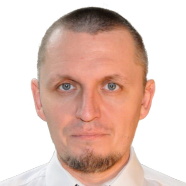 Associate Professor
Workplace

Gmach Elektroniki Telekomunikacji i Informatyki pokój 722

Phone

(58) 348 62 99
A rigorous analysis of the resonance frequency problem of an elliptical-rectangular microstrip structure mounted on dielectric-coated elliptic conducting cylinder, with electrically small radius, is investigated in this paper. A full-wave analysis and a moment-method calculation are employed. The analysis is carried out considering the expansion of the field as a series of Mathieu functions. The complex resonance frequencies of...

This communication offers a rigorous analysis of the resonance frequency problem of a spherical microstrip structure mounted on a multilayer, dielectric-coated metallic sphere, with an electrically small radius. The structure consists of single or multiple metallic patches with arbitrary shapes. A full-wave analysis is employed with the use of proposed hybrid approach, combining the finite-difference technique with a spectral domain...

The analogies between the behavior of gyromagnetic and gyroelectric nonreciprocal structures, the use of the simple transfer matrix approach, and the edge-guided (EG) wave property, supported in a parallel plate model for integrated magnetized semiconductor waveguide, are investigated in those frequency regions, where the effective permittivity is negative or positive. As with their ferrite counterparts, the leakage of the EG waves...
Obtained scientific degrees/titles
Obtained science degree

dr hab. inż. Electronics

(Technology)

Obtained science degree

dr inż. Electronics

(Technology)
seen 238 times