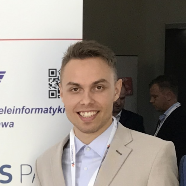 In the article the assumptions, design and realization of the technological demonstrator of a mobile device for generating an electromagnetic curtain (with a cryptonym AEGIS) were presented, both in the area of hardware and software. The device is designed to block the radio communication systems by which it is possible to detonate the Radio Controlled Improvised Explosive Devices (RCIEDs). The preliminary laboratory tests of the...

W artykule przedstawiono założenia, projekt oraz wykonanie demonstratora technologicznego mobilnego urządzenia do wytwarzania kurtyny elektromagnetycznej. Urządzenie jest zaprojektowane do zablokowania łączności radiowej, za pomocą której możliwe byłoby zdetonowanie prowizorycznych ładunków wybuchowych. Celem jest zapewnienie bezpieczeństwa funkcjonariuszom służb państwowych takich jak Straż Graniczna, czy też Policja. W artykule...

Wszechobecny monitoring pacjenta jest jednym ze sposobów zniwelowania negatywnych skutków obecnego modelu opieki zdrowotnej i może być dużym krokiem naprzód w rozwoju medycyny. W niniejszym referacie przedstawiono projekt i wykonanie bezprzewodowego systemu telemedycznego, monitorującego parametry życiowe człowieka, takie jak aktywność elektryczna serca, przyspieszenie ciała oraz stan przycisku alarmowego. Składa się on z urządzenia...
seen 194 times