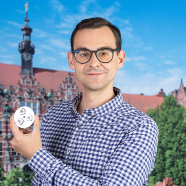 dr inż. Roland Ryndzionek
This paper presents an overview of the DC link development and evolution dedicated to HVDC structure for connecting offshore wind power plants to onshore power systems. The growing demand for the green energy has forced investors in power industry to look for resources further out at sea. Hence, the development of power electronics and industrial engineering has enabled offshore wind farms to be situated further from the shore...

This paper presents the design, modeling and tests of the prototype multicell piezoelectric motor (MPM). A new concept of the electromechanical structure of the considered prototype is based on three rotating-mode actuators. The electromechanical structure of each actuator has been considered as an independent one - referred to as a "single cell" (single actuator). Combined three resonant actuators generate three traveling waves...

This paper represents a numerical and experimental investigation of the multicell piezoelectric motor. The proposed design consists of three individual cells that are integrated into the stator, double rotor, and a preload system combined into a symmetrical structure of the motor. Each of the cells is characterized by a traveling wave and rotating mode motor. A finite element numerical analysis is carried out to obtain optimal...
Obtained scientific degrees/titles
Obtained science degree

dr inż. Automation, electronic and electrical engineering

(Engineering and Technology)
seen 532 times