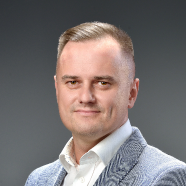 dr hab. inż. Sebastian Demkowicz
The purpose of this article is to provide an overview of the latest applications of organophosphorus compounds (OPs) that exhibit biological activity. A large family of OPs have become popular in recent years. The practical application of OPs in modern medicine has been attributed to their unique properties. In this article, the methods used to select these compounds will be emphasized. This paper will first outline the findings...

Opracowano metodę funkcjonalizacji pochodnych cysteiny przy pomocy tworzenia niesymetrycznego wiązania disulfidowego. Opracowana metoda okazała się bardzo łagodna, wydajna, i niewrażliwa na obecność dodatkowych grup funkcyjnych.

The enhancing effect on the water structure has been confirmed for most of the osmolytes exhibiting both stabilizing and destabilizing properties in regard to proteins. The presented work concerns osmolytes, which should be classified as "structure breaking" solutes: taurine and N,N,N-trimethyltaurine (TMT). Here, we combine FTIR spectroscopy, DSC calorimetry and DFT calculations to gain an insight into the interactions between...
seen 1539 times