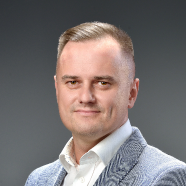 dr hab. inż. Sebastian Demkowicz
The purpose of this article is to provide an overview of the latest applications of organophosphorus compounds (OPs) that exhibit biological activity. A large family of OPs have become popular in recent years. The practical application of OPs in modern medicine has been attributed to their unique properties. In this article, the methods used to select these compounds will be emphasized. This paper will first outline the findings...

Opracowano metodę funkcjonalizacji pochodnych cysteiny przy pomocy tworzenia niesymetrycznego wiązania disulfidowego. Opracowana metoda okazała się bardzo łagodna, wydajna, i niewrażliwa na obecność dodatkowych grup funkcyjnych.

We have developed convenient methods for the synthesis of functionalized unsymmetrical dialkyl disulfides under mild conditions in very good yields. The designed method is based on the reaction of (5,5-dimethyl-2-thioxo-1,3,2-dioxaphosphorinan-2-yl)-disulfanyl derivatives 1 with functionalized alkyl thiolate anions, generated in situ from thioacetates2and sodium methoxide or butylamine. The developed method allows the preparation...
seen 1319 times