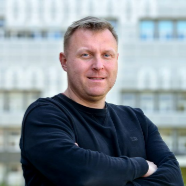 dr hab. inż. Sebastian Molin
W pracy przedstawiono badania porowatej stali nierdzewnej typu 430L do zastosowań w tlenkowych ogniwach paliwowych jako podłoża. Podłoża były poddawane utlenianiu w powietrzu oraz w wodorze i analizowane z wykorzystaniem mikroskopu elektronowego, dyfrakcji rentgenowskiej i termograwimetrii cyklicznej.

The paper presents recent advances in Poland in the field of high temperature fuel cells. The achievements in the materials development, manufacturing of advanced cells, new fabrication techniques, modified electrodes and electrolytes and applications are presented. The work of the Polish teams active in the field of solid oxide fuel cells (SOFC) and molten carbonate fuel cell (MCFC) is presented and discussed. The review is oriented...

In this study, SUS430 alloy is evaluated for its high temperature corrosion properties as a possible material for interconnects of solid oxide fuel cells (SOFCs). Samples are coated with Mn-Co by commercial physical vapor deposition (PVD) process and oxidized in air for 1250 h at 800 °C. A dense cubic Mn-Co-Fe spinel layer is formed on the surface, showing great effect on corrosion reduction compared with the samples without coating....
seen 2611 times