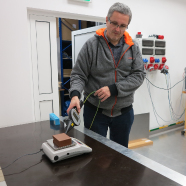 Skin lesions are commonly treated using laser heating. However, the introduction of new devices into clinical practice requires evaluation of their performance. This study presents the application of optical phantoms for assessment of a newly developed 975-nm pulsed diode laser system for dermatological purposes. Such phantoms closely mimic the absorption and scattering of real human skin (although not precisely in relation to...

Dermatological diseases, such as neurofibroma (Recklinghausen disease) or hemangiomas can be efficiently treated using photothermolysis from laser irradiation. We have utilized a developed 975 nm fiber diode laser as a low-cost alternative over common Nd:YAG lasers. This paper describes the investigations of interaction of 975 nm diode laser radiation-pulses with optical skin phantoms which were designed and manufactured in our...

This paper describes a proposal for the qualitative assessment of condition of supercapacitors based on the conducted thermographic measurements. The presented measurement stand was accompanied by the concept of methodology of performing tests. Necessary conditions, which were needed to minimize the influence of disturbing factors on the performance of thermal imaging measurements, were also indicated. Mentioned factors resulted...
seen 553 times