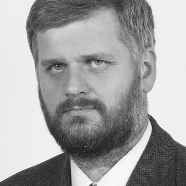 dr hab. inż. Stefan Dzionk
Professor
Workplace

Budynek Wydziału Mechanicznego pokój 226

Phone

(58) 347 12 82
Dyrektor Instytutu Technologii Maszyn i Materiałów
This article represents the results of testing the surface condition of shafts manufactured by the burnishing process. The shafts with a hardness of approximately 62 HRC (Rockwell C). were burnished with a ceramic ball (Si3N4), where the force range was controlled by the means of a hydraulic system. The machining process consisted of hard turning shafts with cubic boron nitride (CBN) inserts, followed by burnishing with the use...

The surface of the finishing machined parts is defined mainly by roughness parameters. Growing demands on the part, especially mating sliding or rolling, require the specification of additional parameters, such as waviness parameters, particularly when there is significant resistance to seizing or noise reduction. This paper presents surface waviness characteristics of hardened burnished steel.

Burnishing hard materials can be used as an alternative finishing process. this paper presents the results of burnishing hardened steel. The article discusses surface deformation that occurs during this process and depends on the selected parameters of the geometric structure of the force applied for surface burnishing.
Obtained scientific degrees/titles
Obtained science degree

dr hab. inż. Mechanical engineering

(Technology)

Obtained science degree

dr inż. Mechanical engineering

(Technology)
He graduated in 1983. After graduation, he worked in the industry sector, especially as a constructor of tools, equipment and production machinery. Since 2000 he works in research and teaching staff of the Gdansk University of Technology at the Department of Manufacturing and Production Engineering. In 2003 he received PhD at the Mechanical Faculty of the Gdansk University of Technology. He completed his habilitation work at 2015. In this period he was author and co-author of more than 80 publications. The results of his work were presented at many international conferences. His scientific activity focuses on: manufacturing methods and production automation, and in particular: incremental production methods, geometric surface structures, finishing processes and processing of polymer materials.
seen 803 times