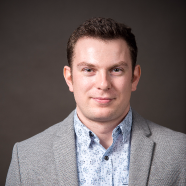 dr inż. Szymon Mania
Novel porous scaffolds composed of chitosan, collagen and gelatin were prepared and characterized. For preparing scaffolds gelatin and collagen isolated from fish skins with various physicochemical properties were used. In order to reduce preparation solubility glutaraldehyde in the amount of 1%, w/w relative to the total biopolymers weight in solution was used. All obtained biomaterials showed a homogeneous porosity. Protein polymer...

The presented work concerns a novel one step method for oil encapsulation. In this coaxial system the oil constitutes the core of the capsule, while the chitosan solution is the polymer shell surrounding the core to provide separation of the core from the external environment. The paper contains a diagram of the encapsulation equipment and explains the principle of its operation. The experimental results showed the impact of the...

Porous chitosan composites using CO2 dissolution procedure and including water soluble N-propylphosphonic chitosan derivative (p-CHI) were obtained and characterized. In contrast to the control material, composites containing modified chitosan distinguished by a rapid moisture absorption and good adhesion to the skin. The FTIR analysis confirmed the presence of propylphosphonic group in the structure of the polymer. The porosity...
Obtained scientific degrees/titles
Obtained science degree

dr inż. Chemical technology

(Technology)
seen 1219 times