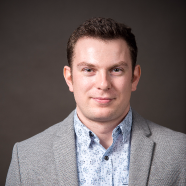 dr inż. Szymon Mania
Novel porous scaffolds composed of chitosan, collagen and gelatin were prepared and characterized. For preparing scaffolds gelatin and collagen isolated from fish skins with various physicochemical properties were used. In order to reduce preparation solubility glutaraldehyde in the amount of 1%, w/w relative to the total biopolymers weight in solution was used. All obtained biomaterials showed a homogeneous porosity. Protein polymer...

The last decades have witnessed a major advancement and development in three-dimensional (3D) printing technology. In the future, the trend's utilization of 3D printing is expected to play an important role in the biomedical field. This work presents co-extrusion of the polylactic acid (PLA), its derivatives (sPLA), and chitosan with the aim of achieving filaments for printing 3D objects, such as biomedical tools or implants. The...

A new method of obtaining functional foam material has been proposed. The materials were created by mixing the poly lactic acid (PLA) solution in chloroform, chitosan (CS) dissolved in water saturated with CO2 and polyethylene glycol (PEG), and freeze-dried for removal of the solvents. The composite foams were characterized for their structural (SEM, FT-IR, density, porosity), thermal (DSC), functional (hardness, elasticity, swelling...
Obtained scientific degrees/titles
Obtained science degree

dr inż. Chemical technology

(Technology)
seen 3126 times