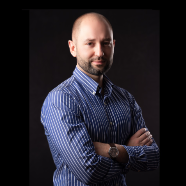 dr inż. Tomasz Falborski
Employment
2010 - present

at Current position: Assistant Professor (formerly: 2010-2015 Teaching and Research Assistant; 2015-2018 Assistant with a PhD degree) Faculty of Civil and Environmental Engineering Gdansk University of Technology
Research fields
Adiunkt
Workplace

Budynek " Żelbet" pokój 115

Phone

(58) 347 13 39
Seismic isolation is identified as one of the most popular and effective methods of protecting structures under strong dynamic excitations. Base isolators, such as Lead Rubber Bearings, High Damping Rubber Bearings, and Friction Pendulum Bearings, are widely used in practice in many earthquake-prone regions of the world to mitigate structural vibrations, and therefore minimize loss of life and property damage during seismic events....

The present paper reports the results of acomprehensive study designed to verify the effectiveness of an advanced mathematical model in simulating the complex mechanical behaviour of a prototype seismic isolation system made of polymeric bearings (PBs). Firstly, in order to construct the seismic bearings considered in this research, a specially prepared flexible polymeric material with increased damping properties was employed....

Pounding between two, or more, adjacent buildings during earthquakes has been identified as one of the reasons for substantial damage or even total collapse of colliding structures, so it has been the subject of numerous studies in the recent years. A major reason leading to interactions between adjacent, insufficiently separated structures results from the differences in their dynamic properties. A number of different methods...
seen 785 times