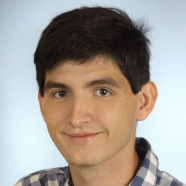 mgr inż. Tomasz Wiczenbach
As at the nanoscale the surface-to-volume ratio may be comparable with any characteristic length, while the material properties may essentially depend on surface/interface energy properties. In order to get effective material properties at the nanoscale, one can use various generalized models of continuum. In particular, within the framework of continuum mechanics, the surface elasticity is applied to the modelling of surface-related...

Experimental dynamic tests and numerical simulations of a 3 meters long segment of a footbridge made of polymer composites are presented in the paper. The span-length is reduced, however dimensions of cross-section are the same as the target footbridge. The segment structure is made of sandwich panels, which consist of fibre reinforced polymer (GFRP) laminates (skins) and a PET foam (core). The first part of the paper contains...

By relying on the Euler–Bernoulli beam model and energy variational formula, we indicate critical temperature causes in the buckling of piezo-flexomagnetic microscale beams. The corresponding size-dependent approach is underlying as a second strain gradient theory. Small deformations of elastic solids are assessed, and the mathematical discussion is linear. Regardless of the pyromagnetic effects, the thermal loading of the thermal...
seen 262 times