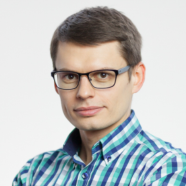 In this paper, we propose a distributed system for point cloud processing and transferring them via computer network regarding to effectiveness-related requirements. We discuss the comparison of point cloud filters focusing on their usage for streaming optimization. For the filtering step of the stream pipeline processing we evaluate four filters: Voxel Grid, Radial Outliner Remover, Statistical Outlier Removal and Pass Through....

Artificial intelligence techniques are capable to handle a large amount of information collected over the web. In this paper, big data paradigm has been studied in volunteer and grid system called Comcute that is optimized by a genetic programming scheduler. This scheduler can optimize load balancing and resource cost. Genetic programming optimizer has been applied for finding the Pareto solu-tions. Finally, some results from numerical...

Volunteer computing systems like BOINC or Comcute are strongly supported by a great number of volunteers who contribute resources of their computers via the Web. So, the high efficiency of such grid system is required, and that is why we have formulated a multi-criterion optimization problem for a volunteer grid system design. In that dilemma, both the cost of the host system and workload of a bottleneck host are minimized. On...
seen 895 times