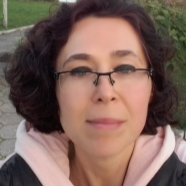 dr hab. inż. Wiktoria Wojnicz
Profesor uczelni
Workplace

Budynek Wydziału Mechanicznego pokój 109

Phone

(58) 347 13 24
The purpose of this study was to elaborate a two-dimensional approach for unipennate and bipennate striated skeletal muscle modelling. Behavior of chosen flat pennate muscle is modelled as a rheological system composed of serially linked passive and active fragments having different mechanical properties. Each fragment is composed of three elements: mass element, elastic element and viscous element. Each active fragment furthermore...

The purpose of the study is elaboration of approach for determination of functioning of chosen muscles that are essential for gait performance (Tibialis Anterior, Rectus Femoris, Gastrocnemius Medialis, Biceps Femoris). The scope of the study involves the analysis of the symmetric planar motion performing in the sagittal plane of the body by applying planar multibody model and electromyography signals (EMG) registered over normal...

The aim of this study was to elaborate a method of estimation of activity of surface muscles acting at the temporomandibular joint of the healthy subjects by using a surface electromyography (EMG). The scope of this study involved testing chosen jaw motions (open, close, lateral deviation) and process of mastication occurring during eating food with different toughness (chewing gum, cereal and carrot) by using mixed sides, right...
Obtained scientific degrees/titles
Obtained science degree

dr hab. inż. Mechanical engineering

(Engineering and Technology)

Wydział Mechaniczny Politechniki Łódzkiej

Obtained science degree

dr inż. Mechanics

(Technology)

Wydział Mechaniczny Politechniki Łódzkiej
seen 1289 times