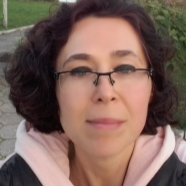 dr hab. inż. Wiktoria Wojnicz
This work demonstrates that an artificial scaffold structure can be designed to exhibit mechanical properties close to the ones of real bone tissue, thus highly reducing the stress-shielding phenomenon. In this study the scan of lumbar vertebra fragment was reproduced to create a numerical 3D model (this model was called the reference bone sample). New nine 3D scaffold samples were designed and their numerical models were created....

Asymmetrical external loading acting on the usculoskeletal system is generally considered unhealthy. Despite this knowledge, carrying loads in an asymmetrical manner like carrying on one shoulder, with one hand, or on the strap across the torso is a common practice. This study is aimed at presenting the effects of the mentioned load carrying methods on muscle activity assessed by using thermal field and ground reaction forces....

Abstract—(1) Background: The aim of this study is to present the results of experiments in which surface electromyography (sEMG) and thermal imaging were used to assess muscle activation during gait and to verify the hypothesis that there is a relationship in the case of low fatigue level between sEMG measured muscle activation, assessed in the frequency domain, and thermal factors calculated as minimum, maximum, kurtosis, mean,...
Obtained scientific degrees/titles
Obtained science degree

dr hab. inż. Mechanical engineering

(Engineering and Technology)

Wydział Mechaniczny Politechniki Łódzkiej

Obtained science degree

dr inż. Mechanics

(Technology)

Wydział Mechaniczny Politechniki Łódzkiej
seen 4736 times