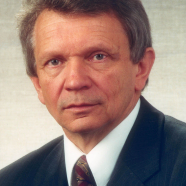 prof. dr inż. Włodzimierz Przybylski
This article represents the results of testing the surface condition of shafts manufactured by the burnishing process. The shafts with a hardness of approximately 62 HRC (Rockwell C). were burnished with a ceramic ball (Si3N4), where the force range was controlled by the means of a hydraulic system. The machining process consisted of hard turning shafts with cubic boron nitride (CBN) inserts, followed by burnishing with the use...

Rozwinięto koncepcję zintegrowanego planowania i sterowania przebiegiem procesu w zrobotyzowanym elastycznym gnieździe obróbkowym (EGO)z maszyną współrzędnościową, realizującą funkcje pomiaru i kontroli wytwarzanych przedmiotów. Analizowano współzależności heurystycznych planów kontroli oraz stosowanych algorytmów szeregowania operacji procesów technologicznych wg określonych scenariuszy, z zastosowaniem programowalnych modeli...

Koncepcja łączenia aluminiowych elementów rurowych z zastosowaniem nagniatania plastycznego jest alternatywą do istniejących metod łączenia przez spawanie i skręcanie. W artykule prezentowane są oryginalne wyniki badań wpływu parametrów nagniatania wewnętrznego i zewnętrznego oraz różnych postaci powierzchni łączonych na wytrzymałość złącza (aluminium-aluminium) pod wpływem rozciągających sił osiowych.Badania przeprowadzono na...
Ph.D., Mech. Eng., Włodzimierz Przybylski, Full Professor- graduated in 1963 in the Faculty of Machine Technology at Gdańsk University of Technology (GUT). Afterwards began work as a assistant in the department of Manufacturing and Machine Building. Currently is working in the Department of Manufacturing Technology and Production Automation at the Mechanical Faculty of GUT. Scientific activity is connected with manufacturing technology field, especially the main aspect considered in his research are burnishing processes and its influence on surface quality, burnishing tool design, fixture and machine tool construction mainly for industrial applications.
Scientific career: Ph.D., Mech. Eng. -1975; Associate Professor-1983; Full Professor-1993.
Academic achievements: approximately 390 positions, 3 scientific books (1 foreign publication), co-author of 4 student books ,co-author of 14 patents; tutor of 9 Ph.D. dissertations; head of 4 research projects and member of 3 research teams in international projects (Germany), contractor in Intl. Project EUTEMPUS-PHARE S-JEP (GUT), co-creator of the CNC turning-burnishing machine tool based on GUT patent; creator of the cyclic conferences TON (Burnishing Machining Technology).
Scientific awards: 5 prizes received from Minister of Science(3 individual);Golden Medal of the World Intellectual Property Organisation(Geneva); T. Sendzimir Medal; 2 awards of Polish Academy of Sciences; 12 awards obtained at various international fairs of innovations; member of scientific committees in 6 journals (1 international).
Memberships: since 1999 Committee of Mechanical Engineering of the Polish Academy of Sciences; since 1994 Academy of Engineers in Poland; 2008-2010 member of Science Committee in Ministry of Science and Higher Education.
Functions at GUT: 1979-1983 Deputy Director at the Institute of Mechanical Engineering; 1984-1987 vice-Dean and 1987-1991 Dean at the Faculty of Manufacturing Engineering; 1992-1993 Dean at the Faculty of Mechanical Engineering; 1994-2009 head of the Department of Manufacturing Technology and Automation; 1996-2002 vice-Rector of Gdansk University of Technology.
seen 1221 times