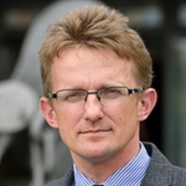 dr hab. inż. Wojciech Litwin
Associate Professor
Workplace

Budynek Wydziału Oceanotechniki i Okrętownictwa pokój 502 D

Phone

(58) 347 28 44
Head of Department
Workplace

Budynek Wydziału Oceanotechniki i Okrętownictwa pokój 517

Phone

(58) 347 16 08
Vice-Dean for Scientific Research
Workplace

Budynek Wydziału Oceanotechniki i Okrętownictwa pokój 203

Phone

(58) 347 15 67, (58) 347 28 07

E-mail
Water lubricated bearings are popular in sliding bearings of marine propeller shafts, turbines and pump shafts. Such popularity is partly due to their simple construction which also means a relatively affordable price. In practical experience one may also observe cases of rapid wear or even malfunctions of this bearings, some of which may be caused by insufficient flow of lubricant leading to overheating. The conducted...

One of main problems concerning water-lubricated bearings is their durability. There are known cases of bearings with life time measured in decades, and some, whose refurbishment was necessary just days after start-up. Obtaining stable fluid film friction plays key role in the durability of these bearings. Unfortunately, their load-carrying capacity is limited due to water's low-viscosity. The conducted experimental...

Water lubricated bearings have been in industrial use for well over a century. During the last decade their traditional range has been expanded with new, modern products. Despite that fact, certain solutions continue to employ the standard rubber bearing with lubricating grooves located along entire bush circumference. The work presents experimental research conducted on comparable sliding bearings with lubrication grooves along...
Obtained scientific degrees/titles
Obtained science degree

dr inż. Mechanical engineering

(Technology)
seen 560 times