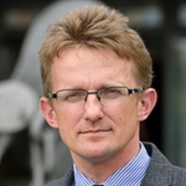 dr hab. inż. Wojciech Litwin
Professor
Workplace

Budynek Wydziału Oceanotechniki i Okrętownictwa pokój 502 D

Phone

(58) 347 28 44

E-mail
Dean
Phone

58 347 1793 i 58 347 1548

E-mail
Water lubricated bearings are popular in sliding bearings of marine propeller shafts, turbines and pump shafts. Such popularity is partly due to their simple construction which also means a relatively affordable price. In practical experience one may also observe cases of rapid wear or even malfunctions of this bearings, some of which may be caused by insufficient flow of lubricant leading to overheating. The conducted...

composite. Eachofitslayershasanimportantfunction.Speciallypreparedslidingsurfaceensures minimum resistance.Followingrunning-initssmoothnessbecomesveryhighandthebearingmay continue workingunder fluid lubricationregime.NBRlayerensuresbearingelasticity,goodvibration damping propertiesandinsusceptibilitytoshaftaxismisalignment.Theexternalbrasslayermakes fitting thebearingeasier. Experiment resultsoftheconductedresearchwerecomparedwiththoseforarubberbearingof similar...

W pracy przedstawiono problemy związane z projektowaniem, montażem i ekspolatcją smarowanych wodą łożysk okrętowych wałów głównych.Przedstawiono wyniki prowadzonych prac badawczych ekperymntalnych i obliczeń.
Obtained scientific degrees/titles
Obtained science degree

dr inż. Mechanical engineering

(Technology)
seen 1322 times