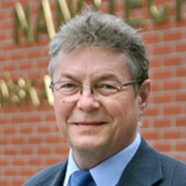 prof. dr hab. inż. Wojciech Sadowski
Profesor
Workplace

Budynek Centrum Nanotechnologii pokój 4/21

Phone

(58) 347 20 91
Dean
Workplace

Gmach Główny pokój 103 B

Phone

(58) 347 13 10
Eu3+ doped tellurite glass ceramics containing SrF2 nanocrystals were prepared using melt quenching technique and subsequent heat treatment of glass in 370 °C for different time periods. Thermal properties of glass matrix have been determined based on DSC measurements. XRD and XPS results confirmed formation of SrF2 nanocrystals in glass matrices after annealing at 370 °C. FTIR studies revealed absorption bands in the range of...

We report an easily controllable, eco-friendly method for tailoring the properties of reduced graphene oxide (rGO) by means of oxygen plasma. The effect of oxygen plasma treatment time (1, 5 and 10 minutes) on the surface properties of rGO was evaluated. Physicochemical characterization using microscopic, spectroscopic and thermal techniques was performed. The results revealed that different oxygen-containing groups (e.g. carboxyl,...

The low-phonon energy tellurite glasses TeO2-BaO-Bi2O3 and TeO2-BaO-Bi2O3-AlF3 triply doped with Eu3+, Tb3+, Tm3+ ions in two different molar ratios were synthesized using melt-quenching technique. Their structure and luminescence properties were widely investigated by X-ray Diffraction (XRD), Differential Scanning Calorimetry (DSC), Fourier Transform Infrared Spectroscopy (FTIR) and Photoluminescence Spectroscopy (PL). The luminescence...
Obtained scientific degrees/titles
Obtained science title

prof. zw. Physics

(Physical sciences)

Obtained science title

prof. Physics

(Physical sciences)

Instytut Fizyki Molekularnej PAN

Obtained science degree

dr hab. Physics

(Physical sciences)

Instytut Fizyki Molekularnej PAN

Obtained science degree

Instytut Elektrotechniczny w Leningradzie LETI
seen 639 times