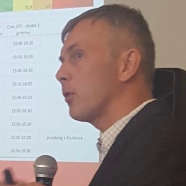 dr inż. Wojciech Szpakowski
We analyzed the causes, the course, and consequences of the extreme precipitation events that occurred 14 July 2016 in the watershed of Strzyza Creek in Gdańsk, Poland. Automated rain gauges located in Strzyża catchment registered a total precipitation lasting about 16 hours – from 129 to 160 mm of rain depth. More in-depth analysis based on rain data collected by Gdańsk University of Technology (GUT) rain station was done. The...

One of the manifestations of climate changes is the occurrence of a greater number of precipitation events, characterized by greater rain intensity that affects the economic stability of cities. Gdańsk is an example of a city in which such events have occurred since the beginning of the twenty-first century. Due to the altitude differences in the area of Gdańsk city (between –2 m and 180 m a.s.l.), the occurrence of extreme atmospheric...

Zadaniem przepustów jest zapewnienie bezpiecznego przepuszczenia cieków wodnych głównie przez liniowe obiekty drogowe i kolejowe. Obowiązującymi przepisami, według których należy projektować przepusty, jest Rozporządzenie Ministra Transportu i Gospodarki Morskiej z dnia 30 maja 2000 r. w sprawie warunków technicznych, jakim powinny odpowiadać drogowe obiekty inżynierskie i ich usytuowanie (Dz. U. z r. 2000 nr 63 poz. 735). Zapisy...
Obtained scientific degrees/titles
seen 453 times