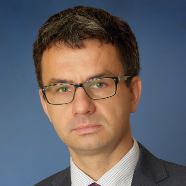 dr hab. inż. Wojciech Witkowski
Within the framework of the nonlinear 6-parameter shell theory with the drilling rotation and asymmetric stress measures, the modifications of Tsai-Wu and Hashin laminate failure initiation criteria are proposed. These improvements enable to perform first ply failure estimations taking into account the non-symmetric stress measures. In order to check the validity of the proposed criteria, finite element analyses are performed with...

The paper presents the formulation of the elastic constitutive law for functionally graded materials (FGM) on the grounds of nonlinear 6-parameter shell theory with the 6th parameter being the drilling degree of freedom. The material law is derived by through-the-thickness integration of the Cosserat plane stress equations. The constitutive equations are formulated with respect to the neutral physical surface. The influence of...

We develop the elastic constitutive law for the resultant statically and kinematically exact, nonlinear, 6-parameter shell theory. The Cosserat plane stress equations are integrated through-the- thickness under assumption of the Reissner-Mindlin kinematics. The resulting constitutive equations for stress resultant and couple resultants are expressed in terms of two micropolar constants: the micropolar modulus Gc and the micropolar...
Obtained scientific degrees/titles
Obtained science degree

dr hab. inż. Construction

(Technology)

Obtained science degree

dr inż. Construction

(Technology)
seen 462 times