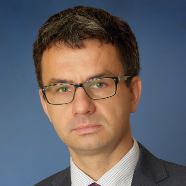 dr hab. inż. Wojciech Witkowski
W pracy porównano równania konstytutywne dla płyt podane przez Altenbacha i Eremeyeva. Na podstawie ich wyprowadzeń określono zakres zmienności współczynnika momentów owinięcia i jego możliwy wpływ na wyniki otrzymane w rozwiązaniach MES w zakresie liniowym

The paper presents the formulation of the elastic constitutive law for functionally graded materials (FGM) on the grounds of nonlinear 6-parameter shell theory with the 6th parameter being the drilling degree of freedom. The material law is derived by through-the-thickness integration of the Cosserat plane stress equations. The constitutive equations are formulated with respect to the neutral physical surface. The influence of...

Within the framework of the nonlinear 6-parameter shell theory with the drilling rotation and asymmetric stress measures, the modifications of Tsai-Wu and Hashin laminate failure initiation criteria are proposed. These improvements enable to perform first ply failure estimations taking into account the non-symmetric stress measures. In order to check the validity of the proposed criteria, finite element analyses are performed with...
Obtained scientific degrees/titles
Obtained science degree

dr hab. inż. Construction

(Technology)

Obtained science degree

dr inż. Construction

(Technology)
seen 669 times