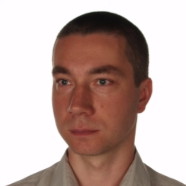 dr hab. inż. Zbigniew Czaja
Przedstawiono nową metodę detekcji i lokalizacji uszkodzeń w częściach analogowych z tolerancjami elementów nieuszkodzonych mieszanych sygnałowo elektronicznych systemów wbudowanych sterowanych mikrokontrolerami. Metoda składa się z trzech etapów. W pierwszym etapie tworzony jest słownik uszkodzeń przez aproksymację rodziny pasów lokalizacyjnych. W etapie pomiarowym wewnętrzny licznik mikrokontrolera mierzy czasy trwania impulsów...

Opracowano nową metodę pomiaru w dziedzinie czasu i wyznaczania trzech składowych elementów modelu czujnika impedancyjnego oraz zaimplementowano ją w inteligentnym czujniku impedancji sterowanym 8-bitowym mikrokontrolerem. Metoda bazuje na pobudzeniu dzielnika napięciowego składającego się z rezystora pełniącego funkcję konwertera prąd na napięcie i z czujnika impedancji pojedynczym impulsem prostokątnym o czasie trwania T bezpośrednio...

tIn the paper new time-domain measurement methods for determining values of resistive (R), inductive(L) and capacitive (C) sensors based on a versatile direct sensor-to-microcontroller interface for microcon-trollers with internal analog-to-digital converters (ADCs) and analog comparators (ACs) are presented.The interface circuit consists of a reference resistor Rrworking as a voltage divider, a given R, L or C sensorand a microcontroller...
Obtained scientific degrees/titles
Obtained science degree

dr hab. Electronics

(Technology)

Obtained science degree

dr inż. Electronics

(Technology)
seen 356 times