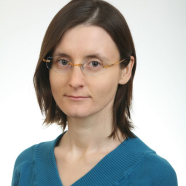 dr inż. Anna Sobieraj-Żłobińska
Adiunkt ze stop. nauk. doktora
Miejsce pracy

Budynek WILiŚ Pracownia Badawczo-Rozwojowa Geomatyki HYDRO/CMC

Telefon

(58) 347 17 31
Within the frames of the use of terrestrial laser scanning we find numerous examples of registration of building facilities, including also historical and valuable in their culture. In the case presented in this paper, at the root of the problem there is a preservation of the historic blacksmith's forge located in Gdansk Orunia. The facility dating from the early nineteenth century was intended to repair involving the complete...

New and constantly developing technology for acquiring spatial data, such as LiDAR (light detection and ranging), is a source for large volume of data. However, such amount of data is not always needed for developing the most popular LiDAR products: digital terrain model (DTM) or digital surface model. Therefore, in many cases, the number of contained points are reduced in the pre-processing stage. The degree of reduction is determined...

Data reduction is a procedure to decrease the dataset in order to make their analysis more effective and easier. Reduction of the dataset is an issue that requires proper planning, so after reduction it meets all the user's expectations. Evidently, it is better if the result is an optimal solution in terms of adopted criteria. Within reduction methods, which provide the optimal solution there is the Optimum Dataset method (OptD)...
Uzyskane stopnie/tytuły naukowe
Nadanie stopnia naukowego

dr inż. Geodezja i kartografia

(Dziedzina nauk technicznych)

Uniwersytet Warmińsko-Mazurski w Olsztynie
wyświetlono 171 razy