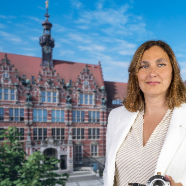 dr hab. inż. Anna Zielińska-Jurek
Adiunkt ze stop. nauk. dr hab.
Miejsce pracy

Budynek A Wydziału Chemicznego Laboratorium 026

Telefon

(58) 347 29 37
Bimetallic nanoparticles, composed of two different metal elements, can exhibit peculiar electronic, optical, and catalytic or photocatalytic properties that are absent in the corresponding monometallic nanoparticles. We show the effect of calcination temperature (from 350 to 700°C) on the structure and the photocatalytic properties of Au/Pd-modified TiO2. The composition of the bimetallic Au/Pd nanoparticles in relation to their...

Series of Pt/Pd–TiO2photocatalysts were obtained using the sol–gel method. The Pt/Pd–TiO2nanocom-posites showed significant visible light photoactivity. X-ray diffraction, STEM microscopy, UV–visspectroscopy and BET characterization allowed to conclude that the photocatalysts at the best perfor-mance had the anatase structure, 91 m2/g specific surface area, Pt/Pd alloy structure and 1–4 nm particlesize. The photocatalytic activity...

Development of effective and safe therapeutic treatment of fungal infections remains one of the major challenge for modern medicine. The aim of presented investigation was to analyze the in vitro antifungal activity of selected essential oils, ethanolic extracts of propolis and silver nanoparticles dropped on TiO2 against azole-resistant C. albicans (n = 20), C. glabrata (n = 14) and C. krusei (n = 10) clinical isolates. Among...
Uzyskane stopnie/tytuły naukowe
Nadanie stopnia naukowego

dr hab. inż. Technologia chemiczna

(Dziedzina nauk technicznych)

Nadanie stopnia naukowego

dr inż. Technologia chemiczna

(Dziedzina nauk technicznych)
wyświetlono 711 razy