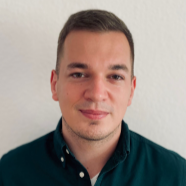 Łukasz Pawłowski
Kontakt dla biznesu
Centrum Transferu Wiedzy i Technologii
Lokalizacja

Al. Zwycięstwa 27, 80-219 Gdańsk

Telefon

+48 58 348 62 62

E-mail
Titanium and its alloys are the biomaterials most frequently used in medical engineering, especially as parts of orthopedic and dental implants. The surfaces of titanium and its alloys are usually modified to improve their biocompatibility and bioactivity, for example, in connection with the deposition of hydroxyapatite coatings. The objective of the present research was to elaborate the technology of electrophoretic deposition...

Nowadays, hydroxyapatite coatings are the most common surface modification of long-term implants. These coatings are characterized by high thickness and poor adhesion to the metallic substrate. The present research is aimed at characterizing the properties of nanohydroxyapatite (nanoHAp) with the addition of copper nanoparticle (nanoCu) coatings deposited on the Ti13Zr13Nb alloy by an electrophoresis process. The deposition of...

Nowadays in case of long-term implants, the most common postoperative complications are bacterial infections, which in consequence may provoke loos- ening of the implants in the primary phase of stabilization. Bacterial infections are currently the most frequent cause of revision surgery of the implants such as hip joint endoprosthesis, knee joint endoprosthesis and dental implants. In order to provide the local and long-term antibacterial...
wyświetlono 384 razy