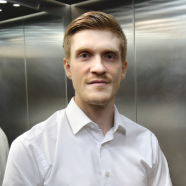 dr Michał Tomasz Kucewicz
Kontakt dla biznesu
Centrum Transferu Wiedzy i Technologii
Lokalizacja

Al. Zwycięstwa 27, 80-219 Gdańsk

Telefon

+48 58 348 62 62

E-mail
Specjalista naukowo-techniczny
High-frequency oscillations (HFO; gamma: 40-100 Hz, ripples: 100-200 Hz, and fast ripples: 250-500 Hz) have been widely studied in health and disease. These phenomena may serve as biomarkers for epileptic brain; however, a means of differentiating between pathological and normal physiological HFO is essential. We categorized task-induced physiological HFO during periods of HFO induced by a visual or motor task by measuring frequency,...

People often forget information because they fail to effectively encode it. Here, we test the hypothesis that targeted electrical stimulation can modulate neural encoding states and subsequent memory outcomes. Using recordings from neurosurgical epilepsy patients with intracranially implanted electrodes, we trained multivariate classifiers to discriminate spectral activity during learning that predicted remembering from forgetting,...

High frequency oscillations are associated with normal brain function, but also increasingly recognized as potential biomarkers of the epileptogenic brain. Their role in human cognition has been predominantly studied in classical gamma frequencies (30-100 Hz), which reflect neuronal network coordination involved in attention, learning and memory. Invasive brain recordings in animals and humans demonstrate that physiological oscillations...
Uzyskane stopnie/tytuły naukowe
Nadanie tytułu naukowego

prof. Nauki medyczne

(Dziedzina nauk medycznych i nauk o zdrowiu)

Mayo Clinic

Nadanie stopnia naukowego

dr Nauki biologiczne

(Dziedzina nauk ścisłych i przyrodniczych)

University of Bristol
wyświetlono 538 razy