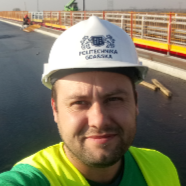 mgr inż. Cezary Szydłowski
Specjalista inżynieryjno-techniczny
Miejsce pracy

Pawilon Jugosłowiański 2

Telefon

(58) 347 26 55
This paper attempts to determine the behavior of mineral-cement-emulsion mixture (MCE) under load, whether is it similar to asphalt mixtures (viscoelastic behavior) or to cement treated materials (elastic behavior). To answer this question nine mineral- cement-emulsion mixtures with different combinations of cement and emulsion content were tested in laboratory using Simple Performance Test (SPT). For each mixture stiffness moduli...

The paper presents low-temperature test results of asphalt mixtures designed with use of bitumen modified by crumb rubber and also SBS polymer. Laboratory tests were conducted on two types of asphalt mixtures for wearing course – stone matrix asphalt (SMA 8) and porous asphalt (PA 8). This paper presents results of the following laboratory tests at low temperatures: TSRST test, three point bending creep test, fracture toughness...

Low-temperature cracking is one of the most common road pavement distress types in Poland. While bitumen performance can be evaluated in detail using bending beam rheometer (BBR) or dynamic shear rheometer (DSR) tests, none of the normalized test methods gives a comprehensive representation of low-temperature performance of the asphalt mixtures. This article presents the Bending Beam Creep test performed at temperatures from −20...
wyświetlono 166 razy