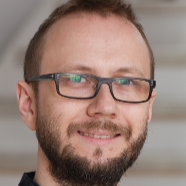 Advanced potential energy surfaces are defined as theoretical models that explicitly include many-body effects that transcend the standard fixed-charge, pairwise-additive paradigm typically used in molecular simulation. However, several factors relating to their software implementation have precluded their widespread use in condensed-phase simulations: the computational cost of the theoretical models, a paucity of approximate models...

We present a novel quantum mechanical/molecular mechanics (QM/MM) approach in which a quantum subsystem is coupled to a classical subsystem described by the AMOEBA polarizable force field. Our approach permits mutual polarization between the QM and MM subsystems, effected through multipolar electrostatics. Self-consistency is achieved for both the QM and MM subsystems through a total energy minimization scheme. We provide an expression...

The importance of incorporating solvent polarization effects into the modeling of solvation processes has been well-recognized, and therefore a new generation of hybrid quantum mechanics/molecular mechanics (QM/MM) approaches that accounts for this effect is desirable. We present a fully self-consistent, mutually polarizable QM/MM scheme using the AMOEBA force field, in which the total energy of the system is variationally minimized...
Uzyskane stopnie/tytuły naukowe
Nadanie stopnia naukowego

dr inż. Fizyka

(Dziedzina nauk fizycznych)
wyświetlono 253 razy