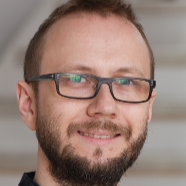 Adiunkt ze stop. nauk. doktora
Miejsce pracy

Gmach Główny pokój 107 A

Telefon

(58) 347 20 95
Advanced potential energy surfaces are defined as theoretical models that explicitly include many-body effects that transcend the standard fixed-charge, pairwise-additive paradigm typically used in molecular simulation. However, several factors relating to their software implementation have precluded their widespread use in condensed-phase simulations: the computational cost of the theoretical models, a paucity of approximate models...

We present a novel quantum mechanical/molecular mechanics (QM/MM) approach in which a quantum subsystem is coupled to a classical subsystem described by the AMOEBA polarizable force field. Our approach permits mutual polarization between the QM and MM subsystems, effected through multipolar electrostatics. Self-consistency is achieved for both the QM and MM subsystems through a total energy minimization scheme. We provide an expression...

We report a linear-scaling density functional theory (DFT) study of the structure, wall-polarization absolute band-alignment and optical absorption of several, recently synthesized, open-ended imogolite (Imo) nanotubes (NTs), namely single-walled (SW) aluminosilicate (AlSi), SW aluminogermanate (AlGe), SW methylated aluminosilicate (AlSi-Me), and double-walled (DW) AlGe NTs. Simulations with three different semi-local and dispersion-corrected...
Uzyskane stopnie/tytuły naukowe
Nadanie stopnia naukowego

dr inż. Fizyka

(Dziedzina nauk fizycznych)
wyświetlono 262 razy