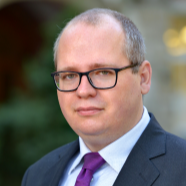 Profesor uczelni
Miejsce pracy

Przejście Podziemne pokój 014

Telefon

(58) 347 10 92
In this study the efficiency of electrochemical oxidation of aromatic pollutants, such as reactive dyes, at boron-doped diamond on silicon (Si/BDD) electrodes was investigated. The level of [B]/[C] ratio which is effective for the degradation and mineralization of selected aromatic pollutants, and the impact of [B]/[C] ratio on the crystalline structure, layer conductivity and relative sp3/sp2 coefficient of a BDD electrode were...

Growth processes of diamond thin films on the fused silica optical fibres (10 cm in length) were investigated at various temperatures. Fused silica pre-treatment by dip-coating in a dispersion consisting of detonation nanodiamond (DND) in dimethyl sulfoxide (DMSO) with polyvinyl alcohol (PVA) was applied. Nanocrystalline diamond (NCD) films were deposited on the fibres using the microwave plasma assisted chemical vapour deposition...

The paper discusses the synthesis and performance of iodine doped titania nanotube arrays exhibited under irradiation. The doping procedure was performed as an additional, electrochemical process carried out after formation of nanotube arrays via anodization of Ti substrate. The optical and structural properties were characterized using Raman, UV-vis, photoluminescence and X-ray photoelectron spectroscopy. The surface morphology...
wyświetlono 661 razy