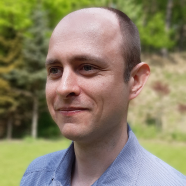 This article was created as a result of research conducted within the master thesis. The purpose of the measurements was to analyze the accuracy of the positioning of points by computer programs. Selected software was a specialized computer software dedicated to photogrammetric work. For comparative purposes it was decided to use tools with similar functionality. As the basic parameters that affect the results selected the resolution...

Interest in the influence of the incidence angle of a laser beam to distance measurements can be seen in many areas of science and technology: geodesy, glaciology, archaeology, machine automation, and others. This paper presents results of measurements of the effect of the incidence angle of a laser beam to distance measurements to the surfaces of different colour and roughness by Topcon's electro-optical total station with an...

The measurement of a chimney axis is an engineering geodesy task. These measurements allow to assess the technical condition of chimneys and are usually carried out for reinforced concrete chimneys. When measuring high chimneys, the main problem may be the need to go a long distance to take a measurement. The surface of the chimney can also be problematic because it can absorb so much light from the range finder that total station...
wyświetlono 152 razy