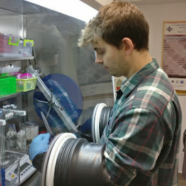 In this work the results on thermal nanostructuring of the Au films on Ti templates as well as morphology and optical properties of the obtained structures are reported. The bimetal nanostructures are fabricated in a multi-step process. First, the titania nanotubes are produced on the surface of Ti foil by anodization in an ethylene glycol-water solution containing fluoride ions. This is followed by chemical etching in oxalic acid...

The main subject of this study are molecular structures and optical properties of boron-doped diamond films with [B]/[C] ppm ratio between 1000 and 10 000, fabricated in two molar ratios of CH 4 -H 2 mixture (1 % and 4 %). Boron-doped diamond (BDD) film on the fused silica was presented as a conductive coating for optical and electronic purposes. The scanning electron microscopy images showed homogenous and polycrystalline surface...

Two-dimensional phosphorene has attracted great interest since its discovery as a result of its extraordinary properties. Two-dimensional single crystals of phosphorene can be useful for electrochemical (EC) sensing applications due to their enhanced surface-to-volume ratio. We proposed to investigate the electrochemical performance of phosphorene deposited directly on boron-doped diamond (BDD) electrodes. Noncovalent interaction...
wyświetlono 65 razy