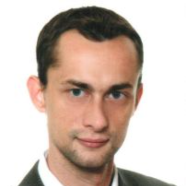 Adiunkt
Miejsce pracy

Gmach Elektroniki Telekomunikacji i Informatyki pokój 546

Telefon

(58) 347 25 32
When estimating the correlation/spectral structure of a locally stationary process, one has to make two important decisions. First, one should choose the so-called estimation bandwidth, inversely proportional to the effective width of the local analysis window, in the way that complies with the degree of signal nonstationarity. Too small bandwidth may result in an excessive estimation bias, while too large bandwidth may cause excessive...

In this application-oriented paper we consider the problem of elimination of impulsive disturbances, such as clicks, pops and record scratches, from archive audio recordings. The proposed approach is based on bidirectional processing—noise pulses are localized by combining the results of forward-time and backward-time signal analysis. Based on the results of specially designed empirical tests (rather than on the results of theoretical analysis),...

In this paper, a new solution to the problem of elimination of impulsive disturbances from audio signals, based on the matched filtering technique, is proposed. The new approach stems from the observation that a large proportion of noise pulses corrupting audio recordings have highly repetitive shapes that match several typical "patterns". In many cases a representative set of exemplary pulse waveforms can be extracted from the...
Uzyskane stopnie/tytuły naukowe
Nadanie stopnia naukowego

dr inż. Automatyka i robotyka

(Dziedzina nauk technicznych)
wyświetlono 430 razy