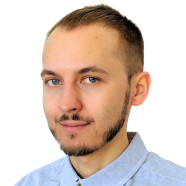 The increasing number of digital data sources, which allow for semi-automatic collection and storage of information regarding various aspects of life has recently granted a considerable rise in popularity to the term "Big data". As far as geospatial data is concerned, one of the major sources of Big data are Light Detection And Ranging (LiDAR) scanners, which produce high resolution three-dimensional data on a local scale. The...

Unorganised point cloud dataset, as a transitional data model in several applications, usually contains a considerable amount of undesirable irregularities, such as strong variability of local point density, missing data, overlapping points and noise caused by scattering characteristics of the environment. For these reasons, further processing of such data, e.g. for construction of higher order geometric models of the topography...

The technologies of sonar and laser scanning are an efficient and widely used source of spatial information with regards to underwater and over ground environment respectively. The measurement data are usually available in the form of groups of separate points located irregularly in three-dimensional space, known as point clouds. This data model has known disadvantages, therefore in many applications a different form of representation,...
wyświetlono 87 razy