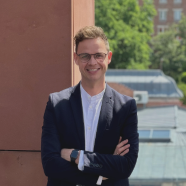 dr inż. Michał Bartmański
Titanium and its alloys are the biomaterials most frequently used in medical engineering, especially as parts of orthopedic and dental implants. The surfaces of titanium and its alloys are usually modified to improve their biocompatibility and bioactivity, for example, in connection with the deposition of hydroxyapatite coatings. The objective of the present research was to elaborate the technology of electrophoretic deposition...

The purpose of the research was to establish the influence of the solution composition and the electrophoretic deposition voltage on the coating homogeneity and thickness, nanohardness, adhesion, corrosion resistance and wettability. The Ti13Zr13Nb alloy was coated by the electrophoretic technique with hydroxyapatite in a solution containing 0.1, 0.2 or 0.5 g nanoHAp in 100 mL of suspension and at voltage 15, 30 or 50 V. The scanning...

The autoclaving process is one of the sterilization procedures of implantable devices. Therefore, it is important to assess the impact of hot steam at high pressure on the morphology, structure, and properties of implants modified by nanocomposite coatings. In our works, we focused on studies on amorphous titania nanotubes produced by titanium alloy (Ti6Al4V) electrochemical oxidation in the potential range 5–60 V. Half of the...
wyświetlono 789 razy