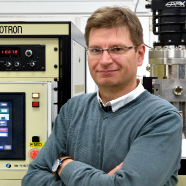 Adiunkt ze stop. nauk. doktora
Growth processes of diamond thin films on the fused silica optical fibres (10 cm in length) were investigated at various temperatures. Fused silica pre-treatment by dip-coating in a dispersion consisting of detonation nanodiamond (DND) in dimethyl sulfoxide (DMSO) with polyvinyl alcohol (PVA) was applied. Nanocrystalline diamond (NCD) films were deposited on the fibres using the microwave plasma assisted chemical vapour deposition...

Anodic oxidation is a popular way to modify termination bonds at boron doped diamond electrodes altering their electrochemical and physicochemical properties. Our studies, performed with dynamic electrochemical impedance spectroscopy technique, supported with X-ray photoelectron spectroscopy and ellipsometry analysis prove its utility in continuous on-line monitoring of impedance changes on the electrode surface under polarization...

This paper presents boron-doped diamond (BDD) film as a conductive coating for optical and electronic purposes. Seeding and growth processes of thin diamond films on fused silica have been investigated. Growth processes of thin diamond films on fused silica were investigated at various boron doping level and methane admixture. Two step pre-treatment procedure of fused silica substrate was applied to achieve high seeding density....
wyświetlono 269 razy