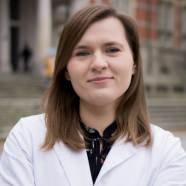 Abstract: Five-membered 1,2,4-oxadiazole heterocyclic ring has received considerable attention because of its unique bioisosteric properties and an unusually wide spectrum of biological activities. Thus, it is a perfect framework for the novel drug development. After a century since the 1,2,4-oxadiazole have been discovered, the uncommon potential attracted medicinal chemists' attention, leading to the discovery of a few presently...

The purpose of this review article is to provide an overview of recent achievements in the synthesis of novel steroid sulfatase (STS) inhibitors. STS is a crucial enzyme in the biosynthesis of active hormones (including estrogens and androgens) and, therefore, represents an extremely attractive molecular target for the development of hormone-dependent cancer therapies. The inhibition of STS may effectively reduce the availability...

In the present work, we report a new class of potent steroid sulphatase (STS) inhibitors based on 6-(1-phenyl-1H-1,2,3-triazol-4-yl)naphthalen-2-yl sulphamate derivatives. Within the set of new STS inhibitors, 6-(1-(1,2,3-trifluorophenyl)-1H-1,2,3-triazol-4-yl)naphthalen-2-yl sulphamate 3L demonstrated the highest activity in the enzymatic assay inhibiting the STS activity to 7.98% at 0.5 µM concentration. Furthermore, to verify...
wyświetlono 738 razy